Capercaillie Picture House Concert £25.00
Saturday 23rd August, doors open 7.00pm
Capercaillie
Rod Paterson
Scotland's top traditional band, Capercaillie, make a welcome return this year following two earlier appearances at the 1993 (first) and 2002 (tenth) Festivals when they played at the Victoria Hall. This year however they will play at the much more intimate venue, The Campbeltown Picture House with Rod Paterson as support.
Capercaillie
Capercaillie have agreed to play a special acoustic set at this venue which will be one of the most intimate concerts that the band have played in many years. They are credited with being at the forefront of the renaissance in folk/roots music over the last 20 years and are regarded as Scotland's finest celtic band. Their appearances in concert halls and festivals in over 30 countries worldwide along with platinum discs and critics awards are testament to the band's consistently popular live shows – an intoxicating blend of traditional Gaelic songs and instrumentals with a contemporary attitude featuring the sublime vocals of Karen Matheson, this is a rare opportunity to see one of folk music's top acts in full flight.
Throughout their career Capercaillie have drawn on two great strengths to inspire them. The first of these is the astonishing musical dexterity of the various fiddle, whistle, flute and pipe who have performed with them over the years, lead by the accordion and keyboards of band founder Donald Shaw. The other foundation of the band has been the peerless voice of co-founder Karen Matheson, described by Sean Connery as having "a throat that is surely touched by God". Universally recognised as one of the finest Gaelic singers alive today, Karen's exquisite voice has been at the centre of the band's music, whether breathing new life into 400-year-old Gaelic songs or bringing her luscious vocals to the band's contemporary compositions...
There have been many milestones for a band who have sold over a million albums worldwide. These include three silver and one gold album in the UK, the first Gaelic Top 40 single, writing the music for, and appearing in the Hollywood movie "Rob Roy", and performing in over thirty countries including Iraq, Macedonia and the Sudan.
Capercaillie have been credited with being the major force in bringing Celtic music to the world stage, and their unique fusion of Gaelic culture and contemporary sound has always stretched boundaries in their quest to keep the music evolving.
It is a mighty long way from Oban High School to the Hanging Gardens of Babylon in Baghdad, but Capercaillie have made this journey and stopped off at many other exotic locations along the way . However, their greatest achievement has been to mould a central strand of their Gaelic heritage into a fresh, new sound, capable of reaching out to the ears and hearts of people all over the world.
Web Site:
http://www.capercaillie.co.uk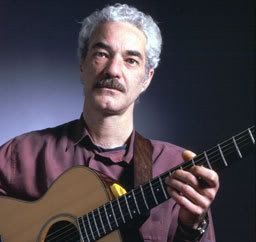 Rod Paterson
Rod Paterson is a celebrated performer of traditional song and probably one of the finest Scottish folk singers of his generation. Rod has a marvellously rich and expressive voice and a reputation as an unequalled interpreter of the songs of Scotland. He was first discovered in the 'folk scene' as the principal singer with 'Chorda', and 'Jock Tamson's Bairns', and rapidly moved on to play with 'The Easy Club' the most influential Scottish band in the mid to late eighties. As well as touring widely with various bands, most recently 'Ceolbeg' and the re-formed Jock Tamson's Bairns, he is an accomplished soloist who has a warm relationship with his audience.
'Rod is arguably one of Scotland's finest singers - this album adds considerable weight to that argument ... to be filed under essential listening.' -Folk Roots
'Rod is an outstanding singer by any standards. His voice combines strength, purity, clarity and a warmth of tone that makes it unmistakable. Each of the 16 tracks is a delight.' -
Vic Smith in The Folk Diary
Web Site:
http://www.bechhofer.demon.co.uk/artists/paterson.html
Arthur Johnstone
Arthur Johnstone, a great friend to the festival Arthur, a founder member of "The Laggan", returns to compere the Saturday evening Traditional Concert. Arthur who started the Star Folk Club in the 1970's is known for his clear, strong and passionate voice is still regarded as one of the best in Scottish folksong.
Arthur latest CD, "North By North" was last year published on Lismor Recordings
Tickets for this concert can only be obtained at:
http://www.ticketweb.co.uk/user/?region ... rface=mull
or by phoning 08444 771 000
Iain