Race report for Bella 10k:
The bad preparation for this 10k began on the Friday night. Just after leaving the Handicap Series prizegiving and setting off up the road we managed to mangle 2 wheels on a pot-hole!! Once I had realised that the tyres were holding pressure we carried on up the road at just over my 10k pace!!!! haha A quick Red Bull Racing wheel change in Lochgilphead had the space saver and the least bent wheel sorted out for an earlier than expected departure the next morning.
Once we had finally reached the big smoke, things were looking a little brighter. Arrived at Bellahouston Park at 10am and straight in to get registered, along with what felt like half of the running community of glasgow, which would seriously affect the start time. Back to the car to get stretched off and can't help noticing that it is bloody freezing, the sun hasn't quite decided to turn up yet and the gale force winds from through the week are looking like they are back!!
Anyway, send Jules off to the House for an Art Lover and tell her that she should aim to head to the finish for some photos in about 40 minutes. I head back up to the start only to be told that the number of on the day registrations has resulted in a 15 minute delay to the start. No problem I think, I'll go and see what the bottom loop of the run is like, double up with a short warm up run. Get along that stretch and find the head wind is really strong, make a mental note where this is distance wise and head back to the start. Lining up I get a feeling that not a lot of people have returned to the start and after a quick chat with some other cold looking runners I find out that the delay is now half an hour!!!!! AAAAGGGGHHHHHH. Now my main aim is to try and find Jules who is going to be a bit miffed when she arrives at the finish, 40 odd minutes before I am due to get there
Finally get the nod that the race is to start and get up to the monument once more. Do a final bit of stretching off and ready to go. Quickly, as always, check where I am in relation to the rest of the field and even more quickly realise that I have been using the start pole to aid my stretches!!!! Get myself a bit further down the field to avoid being trampled by elite athletes just in time to hear the claxon - and we're off!!!
First kilometre is down hill with a couple of tight bottleneck turns which have everyone but the very front runners down at a walking pace, then off like whippets again. Find my pace fairly early and try to identify a couple of other runners that I can run with. Like a true CRC professional I don't get wild when none of my selected pace makers keeps to the plan, 2 quite literally disappeared out of sight at about 3 km and the other one started to struggle shortly afterwards. So, back to running with my friend Garmin, alone.
Coming round to complete Lap1 at 6km (the second lap is shorter!) I really did consider chucking it in, its not easy to motivate yourself when you don't have a target to chase down or someone dragging you along, but a glance at the Garmin kept my hopes of a sub 50 run in the mix and I headed off down wind and downhill, lifting the pace slightly. Turned out of the park and heard a familiar voice cheering me on, Jules had found the runners after all and more importantly she didn't look too angry!!
As I pass 7km I can see Craig, my brother, heading towards me, just passing the 9km mark, and on target for an amazing time (Rab, I think I may have to find a more achievable goal for next years Tin Farm 5). Through 8km in under 40 minutes and still have that sub 50 in mind. Couple of small inclines on the way back into the park start to take the energy out of my legs but the sight of the 9km marker motivates me once more. But, and there is always a but, the last kilometre is slap bang into the biting headwind and try as I might I just cannot get the legs turning over as quick as I want to. Manage a semi sprint over the last 100 metres and cross the line in 50.06 (Garmin) or 50.14 (clock).
Guys, and I do mean the guys, if there is one reason you have to pop this one in the diary for next year its definitely the manner that the medals are awarded!!!!! Two scantily clad young ladies in specially commissioned Achilles Heel hot pants. Fantastic sport watching over weight, less than fit, red in the face, breathless men trying to act cool and impress the Laayydeees!!! Classic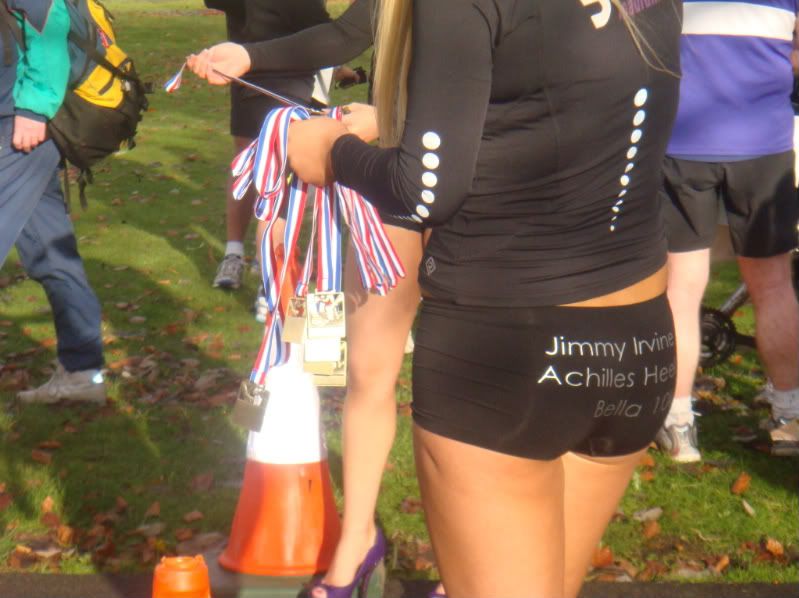 Fantastic day out, second quickest 10k yet for me but still a little disappointing that I couldn't dip below 50 minutes again.
Next????
MSB