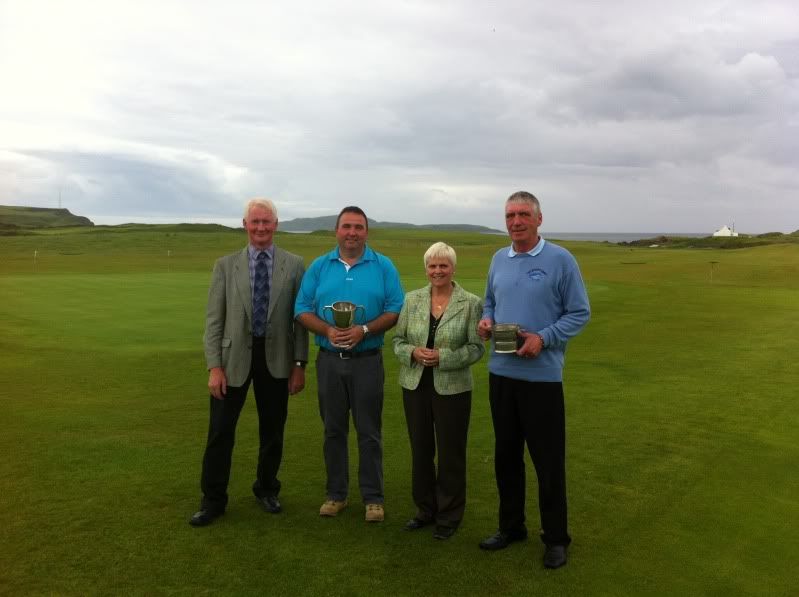 Report that should have been in the Campbeltown Courier but they decided to run a story about Swedish golfers visiting Machrihanish instead.
Dunaverty Golf Club Crowns New Champion
The Dunaverty Golf Club Championship was played for in testing conditions over 4 rounds, culminating in Campbell McCallum winning his first Championship after holding off a strong challenge from George MacMillan. Duncan Watson III successfully defended his Seniors Open Championship finishing ahead of David Irwin. The first two rounds were played on Sat 16th and Sun 17th June in terrible conditions, with Campbell McCallum producing a fine scratch 66 on the Saturday and George posting a superb 3 under par 63 on the Sunday. Duncan Watson III was also playing solid golf with scratch scores of 69 and 65 which set up the 3rd and 4th rounds with George one shot ahead of Campbell and Duncan. The Handicap Championship was also proving to be a close contest with Robert Coffield carding two impressive rounds to sit on 12 under par. The third round of the Championship saw a change in the leader with Campbell again carding a fine 66 and George falling one stroke behind after returning a 68. The final round had a similar look to 2011 when George and Campbell had previously tussled for the title with George coming out on top. This year though, was to belong to Campbell as he held his nerve to card an impressive one under 65 and claim the title with George only able to repeat his score of 68 from the 3rd round. Ross Sinclair and Duncan Watson III finished tied in 3rd place. Due to the consistency shown by Campbell over the 4 rounds, he also claimed the Handicap Championship ahead of Darren Kelly in 2nd place. Captain Bobby Millar addressed all the competitors at the prizegiving and his wife Irene presented the trophies to the winners.
Full list of Results
Club Championship
1st Campbell McCallum = 265
2nd George MacMillan = 269
3rd= Ross Sinclair = 281
3rd= Duncan Watson III = 281
5th Darren Kelly = 288
Handicap Championship
1st Campbell McCallum = 245
2nd Darren Kelly = 252
3rd James Williamson = 255
4th Ross Sinclair = 257
5th Kenny Cameron = 262
Seniors Championship
1st Duncan Watson III = 211
2nd David Irwin = 226
3rd Harry MacLean = 227
4th Ian MacKinnon = 228
5th Sandy Watson = 240